D2050 PC: 20% Additional Bits
D2050 PC: 20% Additional Bits
May 9, 2020 | Etaew
| Viewed 856 times | Blog,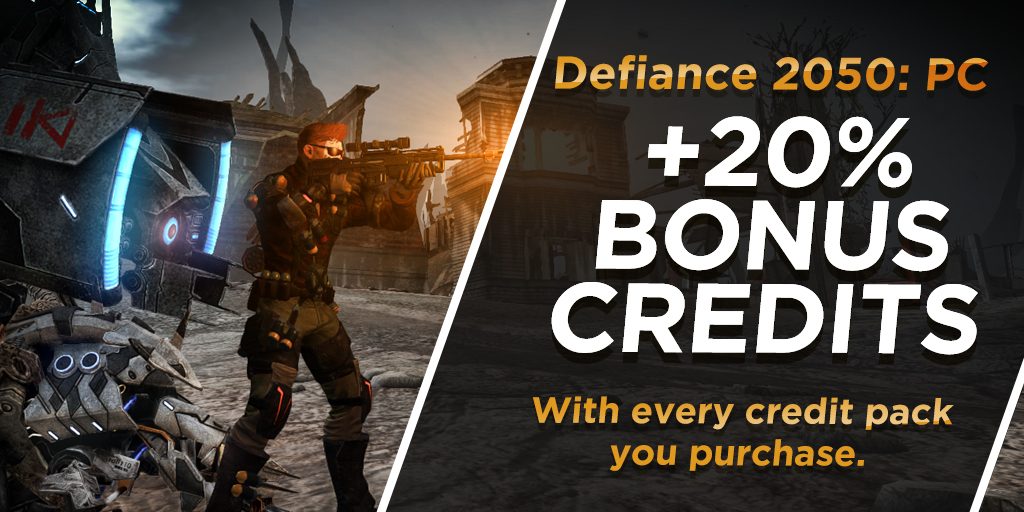 Ark Hunters,
It's time to get more bang for your buck with Defiance 2050's bonus credits!
These weekends you'll be awarded an extra 20% Bits when topping up your account on a PC platform, so make sure not to miss out!
Thefollowing packs are eligible for the promotion*:
500 Bit Pack -> 600 Bits
1100 Bit Pack -> 1320 Bits
2300 Bit Pack -> 2760 Bits
6250 Bit Pack -> 7500 Bits
* All offers are D2050 PC-only! The bonus is not displayed in the game store. After purchasing one of the packs 20% bonus credits will get granted automatically.
**This offer cannot be combined with a First Time Buyer offer.
Valid from Saturday the 9th of May, 1:01 PM PDT until Monday the 11th of May, 10:01 AM PDT.
Don't delay and benefit from this unique offer by topping up your account now!
This article was automatically generated from official news posts, it may be expanded later.
Source: https://www.trionworlds.com/defiance/en/2020/05/09/d2050-pc-20-additional-bits/
Contribute to the discussion or help improve an article by leaving a comment below.
No comments posted here yet.