Defiance 3.4: Dark Metamorphosis - Patch Notes
Defiance 3.4: Dark Metamorphosis - Patch Notes
March 2, 2016 | Etaew
| Viewed 6,062 times | Patch,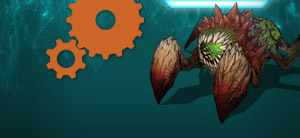 The Dark Metamorphosis update adds new missions, a new single player instance, new pursuits and new arkfalls.
NA: 3/1/16 @ 8:00 AM PST | EU: 3/1/16 @ 4:00 PM GMT
Source: http://forums.defiance.com/showthread.php?234827-Defiance-3.4-Dark-Metamorphosis
FEATURES
Dark Metamorphosis
The Neo Votanis Front have emerged from hiding, and are utilizing the power of the Shrill to further their dangerous agenda. Travel to Port Bruno, and eventually to the Monterey Peninsula, to stop them if you can!
New Missions
Who are the Neo Votanis Front and what is their connection to the Shrill? Battle through all new missions to learn more!
First mission, "Dark Metamorphosis: Dark Shadows" starts in Port Bruno.
This mission chain is available to players of all EGO Levels.
New Single Player Instance
Explore the dusty streets of Old Monterey and the secrets they contain upon reaching the end of the Dark Metamorphosis mission chain!
Challenge the Neo Votanis Front and Shrill through a single player instance in Monterey. Dig deeper into the secrets of the Shrill with all new cutscenes and story content!
New Pursuits
New pursuits have been added for Dark Metamorphosis. Complete Shrill Slayer 3 for a special reward!
Arkfalls
* New Shrill minor arkfalls "Invasive Species" are showing up in Silicon Valley. Defeat the Shrill in time or face the consequences!
GAME UPDATE
WEAPON CHANGES
Increased the base damage of the Berzerker shotgun to be more competitive with other shotguns.
All variants of FRC SAWs and VBI Assuault Rifles have had their aim accuracy improved
NEW STORE LOCKBOX
The new Synergy Lockbox, "Miasma: Epidemic Supply Crate" is now available on the Bit Store! It contains the brand new synergy Epidemic, and contains 1 epic or better weapon and 3 mods from rare to legendary (at least 1 epic or better), all with the limited time Epidemic mod synergy!
Epidemic Mod Synergy
+10% Mag
+10% Rate of Fire
+10% Crit
On hit Infect enemies with shrill for 5s increasing damage taken by 7% (Cooldown: 5s) Enemies that die while infected spawn a shrill feeder which will infect targets they attack
Weapon types included in the crate:

Shrilltech Quick Repeater
Shrilltech Assault Rifle
Shrilltech SAW
Shrilltech Pulser
Shrilltech HP-6 Wolfhound
Shrilltech Berserker
Shrilltech Nano Fragger

Lucky individuals may receive the Jackpot weapon "Miasma" HP-6 Wolfhound


NEW BUNDLE: SHRILL HUNTER PACK
Lay waste to the Dark Matter and Shrill of Monterey with this new bundle! This limited time pack will contain the following items:

Shrilltech Blast Rifle Epic weapon
"Shrill Hunter" Outfit and Headgear
Vehicle: TMW Hannibal 800R "Shrill Seeker"
30-day Patron Pass
Unique Title: 'Shrill Hunter'
Contribute to the discussion or help improve an article by leaving a comment below.