Solstice Strike 2019 Patch Notes
Solstice Strike 2019 Patch Notes
December 16, 2019 | Etaew
| Viewed 1,385 times | Patch,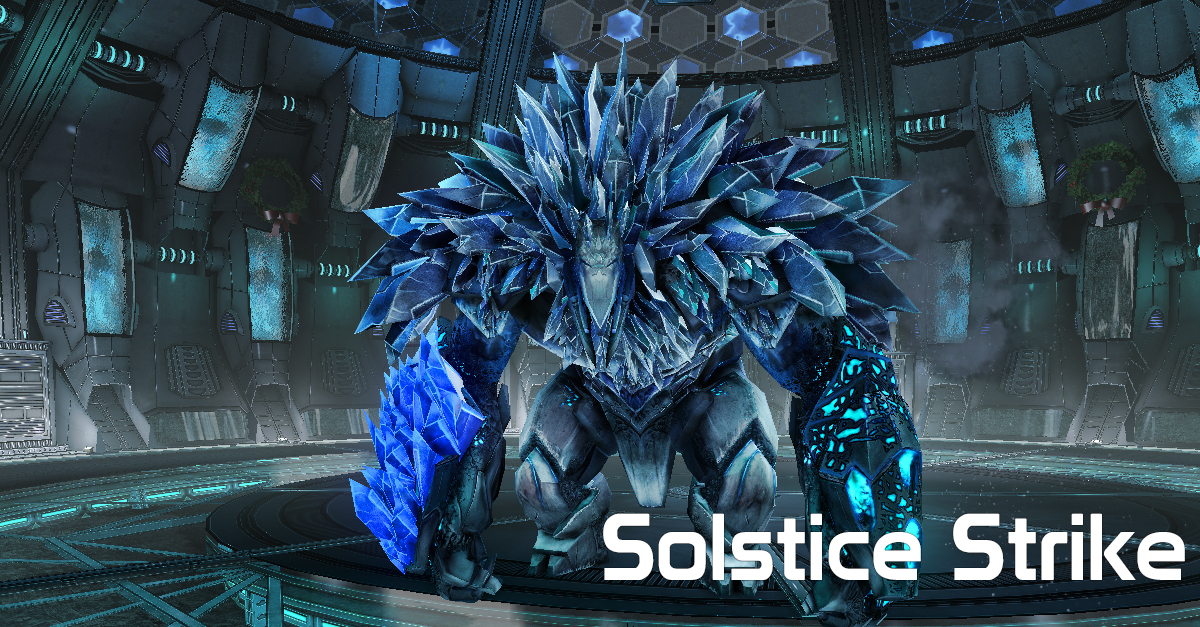 Solstice Strike has come to Defiance 2050! Get ready to battle with the Abominable Warmaster and the Volge Grinches in special summoned Minor, Major Arkfalls and Christmas Warmaster Arkbreaks!

Solstice Strike will run for four weeks from 2019/12/16 until 2020/01/13 and brings with it new event prototype, synergy, pursuit, contracts, mod fusion and more!


New Pursuit, Daily and Weekly Contracts

A new pursuit has been added called "Solstice Strike 2019". Complete this pursuit during the Solstice Strike event to receive a special reward: 20 additional inventory slots and a new title "Winter Knight".

New contracts are available with Solstice Strike. Complete the daily contract to receive 12 Purified Gulanite and 10 Reputation, and the weekly contract to get your hands on a guaranteed Legendary weapon with Frigid Impact Fusion Set and 50 Reputation.


New Shields and Armor

Give your old shield a break with the new Self-Repairing Shields and Armor Regenerators! During the combat these new shields and armors will constantly regenerate its capacity or durability. Available in the Solstice Strike Cache in the Store and through Ex Inanis Vendors.
Self-Repairing Rhino
Self-Repairing Respark
Self-Repairing Ironclad
Self-Repairing Tachyon
Each shield will have its own regeneration stats depending on rarity:
(Uncommon) Regenerates 1% Capacity/Durability per second
(Rare) Regenerates 2% Capacity/Durability per second
(Epic) Regenerates 3% Capacity/Durability per second
(Legendary) Regenerates 4% Capacity/Durability per second
New Mod Fusion: Frigid Impact

New Mod Fusion weapons have made their way to Paradise to fight against the new enemy. Try it in a combat with the new shields! Frigid Impact weapons and mods will drop from Ex Inanis Vendors, and Solstice Strike Caches in the Defiance 2050 store. Check it out:
[1] +10% Shield / Armor Damage

[2] Kills restore 25% Shield Capacity / Armor Durability over 5 seconds (Cooldown: 10s)

[3] Using an ability grants an additional +15% Shield / Armor Damage for 10 seconds (Max Stacks: 1)

[4] Breaking an enemy Shield or Armor reloads your equipped weapon and provides +15% damage for 10 seconds


New Synergy: Aegis

A new event synergy brings something good to the table. Collect all Crystals to unlock the full potential of your shields defense and deal massive damage to the enemies.

Synergy: Aegis (Tier 6 - Energy: 1400)
[1] +15% Shield Capacity / Armor Durability

[2] Deal 15% increased damage to enemies under 30% Vitality

[3] Shatter: When your shield or armor breaks, restore 100% shield capacity / armor durability and stun enemies within 7 yards for 3 seconds (Cooldown: 20s)

[4] While your Shield or Armor is active, dealing or taking damage grants +15% damage for 3 seconds

[5] Persistence: Weapon hits have a 33% chance to improve Shield Recharge Delay, Shield Recharge Rate and Shield Capacity / Armor Repair Delay and Armor Durability by 5% for 10 seconds (Max Stacks: 5)

[6] While your Shield or Armor is above 95% dealing or taking damage grants +15% damage for 10 seconds


New Prototype: Cheer Cannon

The Solstice Strike event brings also a new holiday themed Prototype "Cheer Cannon". This prototype fires a Christmas tree missile that pierces targets, dealing damage to them, then exploding when impacting a surface.

Complete daily and weekly event contracts to get this prototype at the Paradise Territory Vendor, only available during the event! Get it now before it's too late!


Solstice Strike Cache

Obtainable at Vendor and Store this Cache contains a rare or better Frigid Weapon, Mod, Self-Repairing Shields / Armor Regenerators, or Aegis Crystal. All weapons and mods have Mod Fusion: Frigid Impact.
Has a chance to contain a Prime Frigid Weapon with a perfect condition and fixed weapon bonuses.
As always buy 50 to get a Legendary item on top and buy 100 to get Legendary item and a Prime Frigid Weapon! This cache will be gone after January 13th.


Frostbringer Pack

Show your Solstice pride by rocking the Abominable Warmaster on the side of this frosty vehicle. The Frostbringer Pack is only available during the Solstice Strike event in the Defiance 2050 Store until January 13th.

Includes:
RM Renegade "Frostbringer" van
"Frostbringer" Title for all characters
Event Modification

Modified drops on Minor + Major Arkfalls + Christmas Warmaster Arkbreak to have event specific mob dropped loot.
Uncommon and rare weapons + mods can have Frigid Impact Fusion.
Uncommon and rare shields can be self-repairing.
Epic items and all rarities will drop normal


We hope that you will enjoy this unique event. Happy Holidays!
Your Defiance Team
This article was automatically generated from official news posts.
Source: http://forums.defiance.com/showthread.php?329068-Solstice-Strike-2019-Patch-Notes
Contribute to the discussion or help improve an article by leaving a comment below.
No comments posted here yet.