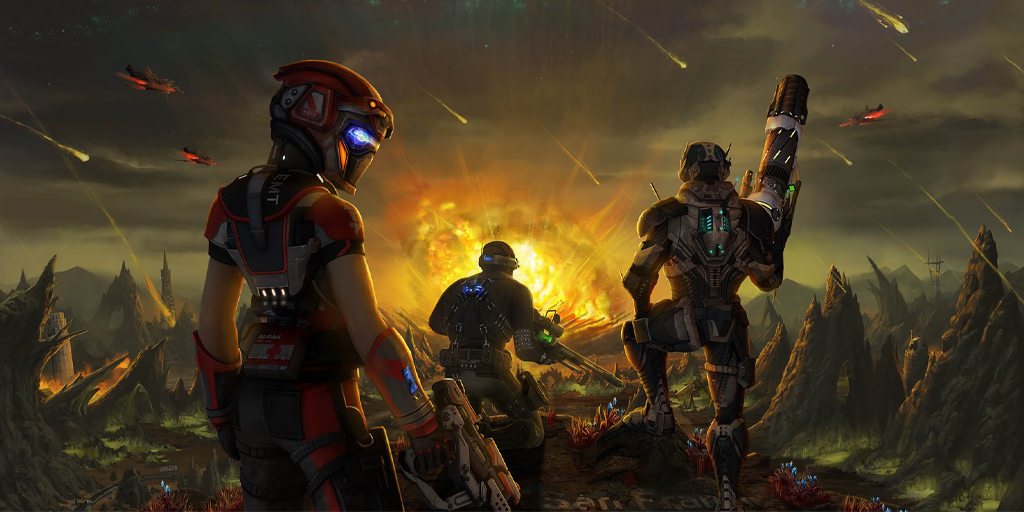 To our loyal Defiance and Defiance 2050 Communities,
Since the release of Defiance 8 years ago, followed by the release of Defiance 2050 3 years ago, we have shared countless gaming memories. Today we come to you with hearts heavy with sadness as we announce that Defiance and Defiance 2050 will officially cease all operations on April 29, 2021.
This decision was not an easy one to make. We concluded that both games could no longer sustain themselves.
While we are discontinuing the games service, we will never forget the incredible journey we embarked on together. It is never easy to announce the shutdown of any game, knowing how much time and effort we have all put into making Defiance and Defiance 2050 enjoyable for many years.
As of today, all cash purchases will be disabled. Bits already purchased before February 24, 2021 will still be usable until the end of service.
Players may continue to play in Defiance and Defiance 2050 and enjoy all game features until April 29, 2021.
The following content will be available:
95% discount on all in-game items sold for Bits in the Defiance Store.
Every 1-2 weeks, we will hold a server event for Defiance and Defiance 2050.
Server Boosts for Skill, Reputation, and Experience Points will be active.
Item giveaways.
If you are wondering what to play next now that your favorite games are closing, worry not! We have a wide selection of games from all types and genres here at gamigo! Check our website at https://gamigo.net/ and pick your next passion!
As a welcome offer, you can use these gift codes to start your journey in one of our gamigo games:
Trove
Hellbugs hold special memories and you don't want to give up on these buggy baddies?
Worry not! Hellbugs can now be your allies and cubed. So grab your friends, hone your blades, and set off for adventure in Trove, the ultimate blocky action MMO.
Use the code now: THXANDSEEYOUINTROVE
The code is valid through May 31, 2021, 23:00 UTC, redeemable once per account.
Desert Operations
Conquer the world through battle, diplomacy and teamplay! Vehicles, helicopter gunships, jets, ships and much more are to be yours to take important economic and strategic decisions in this strategy MMO!
Check the code now: DESERTSTORM
The code is valid through May 31, 2021, 22:00 UTC, redeemable once per account.
ArcheAge
This fantasy-sandbox MMORPG isn't about following a predefined path, it's about creating a world by choosing the things that matter to you.
Grab the code now: WELCOMEARKHUNTERAA
ArcheAge Unchained
Become your Legendary self in ArcheAge: Unchained! Follow your path and discover the wonders of the gods. Shape the world and become a Legend.
Take this code now: WELCOMEARKHUNTERAAU
The code is valid through May 31, 2021, 23:00 UTC, redeemable once per account.
Also, players of Defiance and Defiance 2050 can expect gifts to specific games from gamigo's portfolio in a follow-up newsletter. You can subscribe to our special offers through your account's email preferences.
To sweeten the moment, our Loyal Spenders will receive extra rewards. For all Bits purchases, we will award 100% of Bits that you have spent in the last 60 days or 200% of Bits that you have spent within the last 30 days to your preferred game from gamigo's portfolio.
You will receive your Bits in the form of the virtual currency of that game. Please send a request to our Customer Support to transfer your Bits to your new chosen game of choice.
Please visit Game Closure FAQ for any questions regarding game services shut down.
A heartfelt thank you to every player who took the time to play our beloved games and helped us along the way with feedback and suggestions.
Best regards,
Your Defiance and Defiance 2050 Team
This article was automatically generated from official news posts, it may be expanded later.
Source: https://www.trionworlds.com/defiance/en/2021/02/23/defiance-and-defiance-2050-game-closure-announcement/
Contribute to the discussion or help improve an article by leaving a comment below.
No comments posted here yet.