Share the Love PvP Challenge
Share the Love PvP Challenge
February 13, 2021 | Etaew
| Viewed 1,726 times | Blog,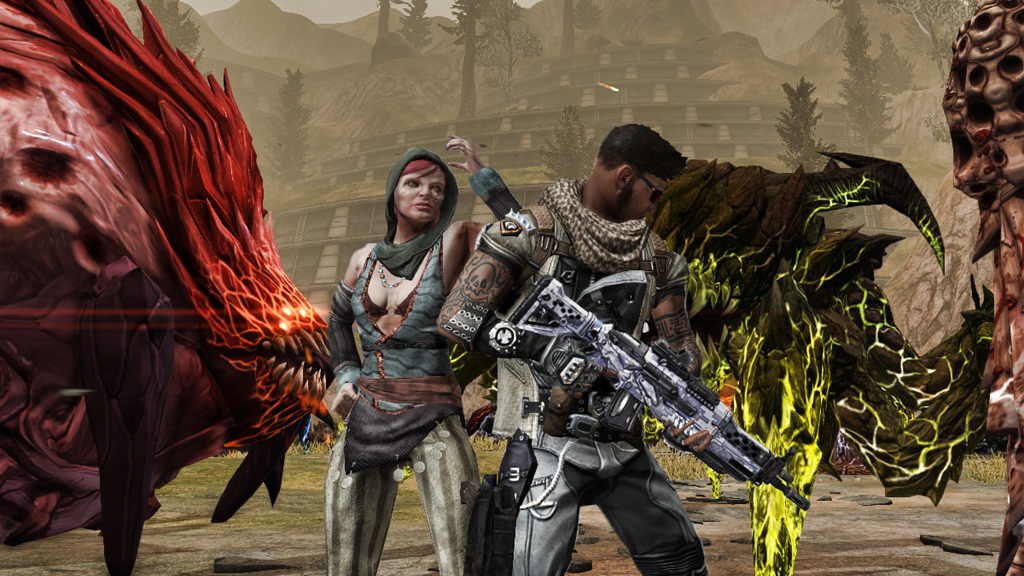 Ark Hunters,
Do you think love can bloom on a battlefield? With Valentine's Day coming up soon have you prepared something special for your significant one in Defiance and Defiance 2050 or there's no time for love while fighting for resources?
Either way, whether you're a couple or just any dynamic duo, assemble your team for the Share the Love PvP Challenge starting this Sunday, February 14, 2021 at 12 p.m. CET / 3 a.m. PST until February 19, 2021 at 12 p.m. CET / 3 a.m. PST.
Are you up for the challenge?
You and your partner will have 5 days to complete in various PvP battles. The lockdown and social distancing during these troubled times can hurt sometimes so we will understand if you want to keep a distance and play apart for some time or even play against each other. There just one rule to be on your way to victory and that's play in a PvP matches with or without your partner. Your score will get summed up for the ranking and the top-performing duos in each platform will earn great rewards along the way!
1st place: Prime Precision Torment Weapon of your choice (Defiance 2050) or Mutagenic Gestation Jackpot Weapon of your choice (Defiance)
2nd place: 20x 99 Problems Cache (Defiance 2050) or 7 x Mutagenic Gestation Supply Crate (Defiance)
3rd place: 15 Inventory Slots
Each price will be credited to both players of the registered team. You can also exchange prize for the lower tier price.
In order to participate, players must have their accounts signed up for the challenge. Make sure that you sign up with your character's in-game name, any incorrectly filled form will not count you towards event progression.
Sign up for the challenge here.
Show your love through the Share the Love PvP Challenge and have fun!

Best regards,
Your Defiance Team!
FAQ
I forgot to sign up, can I do it later?
Yes, you can sign up while the event is running. However once event is over, we will not accept any new registrations.
What kind of PvP counts toward the event?
You can play in any competitive map or Shadow War available through "Matchmaking".
I can't remember if I signed up for the challenge. Can I fill the form again?
At least one from the team should sign you both. If you're unsure about your registration better submit a new sign up.
What's PvP?
PvP is Player versus Player. You will get scored for playing against other players, not against NPCs.
My partner won't play, can I sign up with another player?
No, you can't change your partner after successful sign up. You can only re-send your registration in case of wrongly filled information.
Do I have to play with the player I signed up with?
It's not necessary, however playing together is more fun.
Can I sign up as solo?
No, for this event we accept only team sign ups.
I signed as a team but played solo and won. Will my teammate also get a prize?
Absolutely, your total score is summed up, even if only one of you is making all the effort.
We're the only team that signed up for the challenge. Does that mean we get the prize automatically?
It won't be a challenge if you are not competing against other teams. We will reward the top-performing teams in each platform, this means that if you play on EU server and you're the only one who signed up for the challenge then your score will compete with teams from the NA server. If there are enough teams to compete within one server, we will determine winners within that certain server.
I left in the middle of the match. Will my score get counted?
No. If you couldn't see the ranking score at the end of match then you didn't make any contribution.
Can I get disqualified?
If you break the rules, then yes. The general Terms of Use rules apply to this event.
This article was automatically generated from official news posts, it may be expanded later.
Source: https://www.trionworlds.com/defiance/en/2021/02/13/share-the-love-pvp-challenge/
Contribute to the discussion or help improve an article by leaving a comment below.
No comments posted here yet.